15 – Title: "THE MATTANZA"
Year 2015:
Dimensions: 260 x 180
Technique: Acrylic and natural rope on jute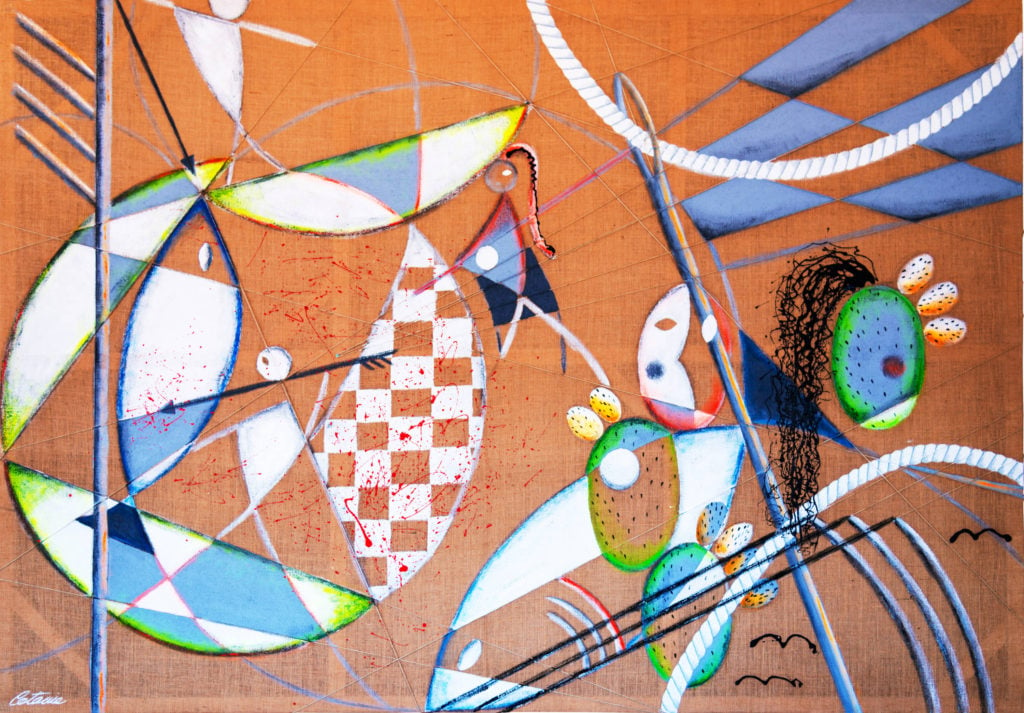 The mattanza is an ancient technique of bluefin tuna fishing, which has been developed over centuries, particularly in the West of Sicily.
The author encloses in this work of overlapped pannels, all the stages of tuna fishing, from the preparation of the nets by women with a needle and thread in the foreground (on the right of the picture) to the real tuna hunt, surrounded by three boats and killed bloodily by two fishermen armed with spears (on the left of the picture). History and tradition are combined in this work. In the matriarchal Sicilian society the woman takes on a fundamental importance. The woman is represented as a link between the central stage of preparation of the nets (right) and the attack phase of fishing (left). The woman, as well as being in the central area of the painting engaged in weaving nets with her left hand and in the delivery of the repaired nets to the man with the right hand, has her importance in the painting highlighted by the presence of a "dissembled prickly pear ", symbol of the tie between the mediterranean woman and her land. For the author the woman and her land are joined in one artistic representation.