artwork number 38
"The Harlequins (B Version)" – Cesare Catania – Contemporary Painting
Year: 2016
Dimensions: 100 cm x 70 cm
Technique: Oil and acrylic on canvas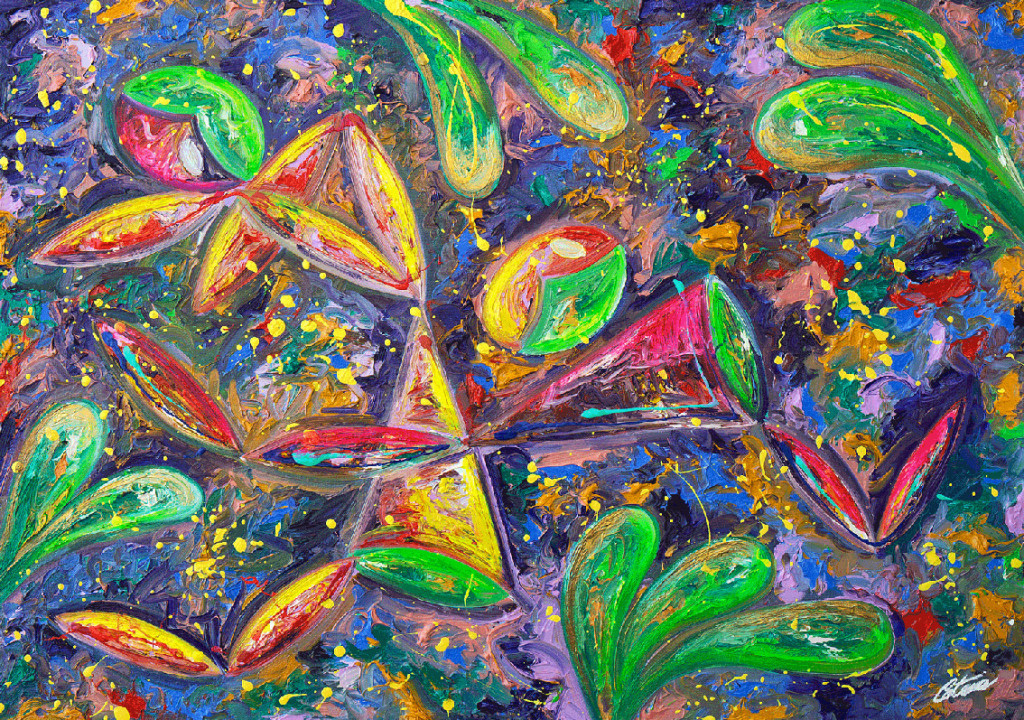 Description:
In this version B the artist re-proposes the theme of Harlequins. The scene is set in a garden of exotic plants under a blue starred sky, portraying the two protagonists that were playing. Cesare Catania's two Harlequins are also in this Version B, with their head separated from their body (like in Version A) and they fill the canvas in an absolutely unique and personal way. The one on the left, with his body facing down and supported by his arms, plays while balancing on his legs his friends outfit; the one on the right, lying on his back and relaxed, with an air of superiority, ignores his friends happenings, which in the meantime has laid his head on his back. Easy to distinguish the heads of the two Harlequins observing the colors of the same: Yellow of the Harlequin on the left, pink of the Harlequin on the right.
The only one interested in the scene seems to be the yellow Harlequin that is looking carefully at what is happening to his friend's body and head.
*
---
... and now
discover all the other artworks made by the contemporary artist
Cesare Catania ...
or directly enter the specific artworks' categories here below
and discover now other works of art made by the artist Cesare Catania:
paintings oil and acrylic on canvas,
3D paintings,
sculptures,
tapestries,
sketches,
ingenuity works (including monumental sculpture and artistic architecture)
... and if you would like to know everything about his
"most popular artworks"
scroll the slider here below ...
or come back to the main menu
do you wanna buy the Art of Cesare Catania?