artwork number 43
"The Violinist from Barcelona (B Version)" – Cesare Catania – Contemporary Painting
Year: 2016
Dimensions: 170 cm x 120 cm
Technique: Oil and acrylic on canvas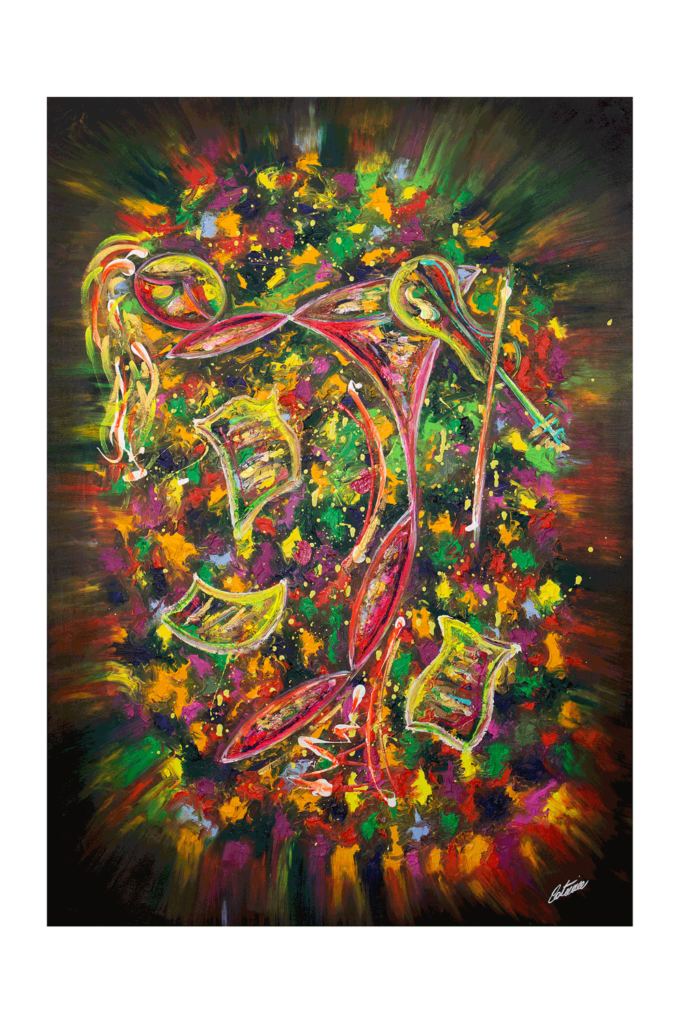 Description
In this painting Cesare Catania represents all the emotional energy that the music scene in front of him is transmitting. The violinist belongs to the symphonic orchestra of the Music Palace in Barcelona and is concentrated on playing Vivaldi's "Four Seasons". The theatre is enraptured by her skill and by her presence. The woman plays and hovers in the artist's canvas that captures the figure, the violin, the bow and the fluttering arrangement. All this in a painting that only highlights the protagonist and that fades the rest of the scene as if it was a photo was taken with a camera and with the subject in synchronous movement: the subject is perfectly focused and the background is blurred.
The woman that is fully arched to the left, flaunts her violin and her stage presence during the concert. The woman's head and thick hair are deliberately shifted to the left to enhance the arched body position, all aimed at giving light and emphasis to the musical instrument.
**
---
... and now
discover all the other artworks made by the contemporary artist
Cesare Catania ...
or directly enter the specific artworks' categories here below
and discover now other works of art made by the artist Cesare Catania:
paintings oil and acrylic on canvas,
3D paintings,
sculptures,
tapestries,
sketches,
ingenuity works (including monumental sculpture and artistic architecture)
... and if you would like to know everything about his
"most popular artworks"
scroll the slider here below ...
or come back to the main menu